Moscow ex-mayor starting movement to promote more democracy
Moscow ex-mayor Yury Luzhkov, dismissed last week by President Medvedev, says he is going to launch a political movement to counter an antidemocratic drift. Many activists are skeptical of Luzhkov's pro-democracy credentials.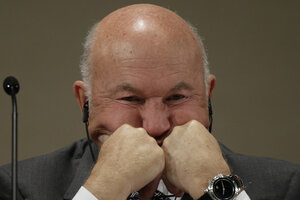 Ivan Sekretarev/AP Photo
Yury Luzhkov, the long-serving mayor of Moscow who was fired last week by President Dmitry Medvedev following a nasty public battle, said Monday that he will start his own political movement to combat the antidemocratic drift of Russian society.
"I am going to form my own political movement," Mr. Luzhkov said in an interview with the opposition newsweekly New Times. "Today our society has undemocratic laws ... and has become largely disintegrated in all areas," including a dearth of media freedom.
"That is what I am going to fight against," he added.
He said his removal from the job he'd held for 18 years was "a political issue" connected with the upcoming 2012 presidential elections. Both incumbent President Medvedev and the powerful ex-president and current prime minister, Vladimir Putin, have been jockeying for position in what will likely be a tough bureaucratic struggle for the establishment nomination in that contest.
But Luzhkov added that he wasn't planning to start his own political party to compete with United Russia – from which he resigned last week – nor did he intend to throw his hat into the presidential ring.
The ex-mayor's declaration that he's going into opposition drew snorts of disbelief from Russia's beleaguered pro-democracy activists Monday.
---