Will Jerome Kerviel's hefty sentence check rogue trading in France?
Rogue trader Jerome Kerviel was sentenced Tuesday to three years in prison and ordered to repay Société Générale nearly $7 billion in a verdict many see a strong warning to French bankers.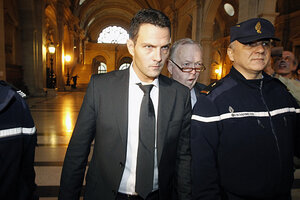 Laurent Cipriani/AP
Rogue trader Jerome Kerviel, responsible for one of the biggest banking frauds ever, has been sentenced to at least three years in prison and ordered to pay back the nearly $7 billion that he lost for his bank, Sociéte Générale, as a result of bad trades.
The sentence, which many considered an extraordinarily harsh one, is intended as a stern message to French banks and traders that irresponsible and risky trading and financial irregularities won't be tolerated.
The decision comes as French mistrust in banking institutions is running high, and even though this ruling concerns only Mr. Kerviel, it's being seen as an indictment of a banking system that many blame for France's current financial crisis.
Breach of trust
A panel of three judges in Paris said Jerome Kerviel was guilty of breach of trust and other crimes when he made a series of unauthorized trades that eventually cost the prestigious French bank Société Générale more than 50 billion euros (more than $69 billion) put it on the brink of collapse.
The court rejected Mr. Kerviel's argument that his superiors had tacitly encouraged him to make risky bets outside his limits as long as he was earning the bank money. It concluded that Kerviel was solely responsible for his actions.
---