After allies revolt, Italy's Berlusconi nears political end
Italian Prime Minister Silvio Berlusconi, whose tenure has been beset by scandal, saw his government move closer to collapse Monday after four cabinet members quit.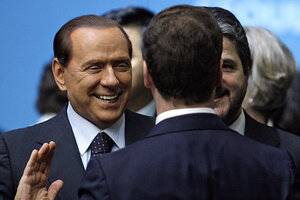 Dmitry Astakhov/Presidential Press Service/RIA Novosti/AP
It has been a rough two days for embattled Italian Prime Minister Silvio Berlusconi, whose governing right-wing coalition seems closer to collapse than at any point in its rocky tenure. Monday saw the resignation of four cabinet members close to Gianfranco Fini, the parliamentary leader who recently broke from Mr. Berlusconi's Freedom Party.
Today, President Giorgio Napolitano summoned the heads of the Senate and of the Lower House for consultations, an emergency measure that might signal the calling of early elections or the institution of a temporary government. But also on Tuesday, the leaders of the opposition vowed to wait until the budget is passed this month before voting a no-confidence motion on the government.
"The countdown for the end of the Berlusconi era has begun," said Michele Meta, a parliamentarian from the Democratic Party, the major opposition force.
A controversial figure
Berlusconi, a flamboyant media and construction tycoon and owner of the popular soccer team AC Milan, entered politics in 1994. Under the slogan, "The new is coming forth," he filled a political vacuum after a series of political corruption scandals. Since then he has ruled Italy with only brief interruptions from left-wing governments.
---