Ireland confronts political mutiny in wake of bailout
Ireland's Green Party has said it will pull out of its coalition under Prime Minister Brian Cowen. Cowen has called for elections in early 2011, but opposition leaders want a vote now.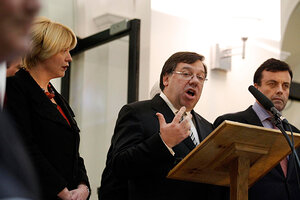 Cathal McNaughton/Reuters
Ireland has been plunged into disarray as the Green Party said it intended to pull out of the coalition government. The announcement was rapidly followed by statements from two independent members of parliament suggesting they too were unlikely to support the government of Prime Minister Brian Cowen.
A general election is expected in January at the latest, but opposition parties are calling for a vote now.
A spokesman for Mr. Cowen said today that the government was focused on crafting a new fiscal budget and completing economic recovery efforts, but the prime minister was meeting this evening with colleagues from his Fianna Fáil party to discuss the deepening political crisis. At least one of his colleagues, Dublin lawmaker Chris Andrews, has called for Mr. Cowen to resign as both prime minister and party leader.
The mutiny comes at a difficult time for Fianna Fáil, the senior partner in a coalition government with the Green Party. The government is negotiating the details of a joint European Central Bank-International Monetary Fund aid package and plans to announce its four-year economic recovery plan Wednesday. While the Green Party's pullout is not expected to jeopardize the ECB-IMF package, it has caused jitters across financial markets and fears that instability could spread elsewhere.
---