For Europe, WikiLeaks offers cyberdrama with Julian Assange as main character
Many European analysts question the motives of WikiLeaks' Julian Assange. Is he at the vanguard of a new era of transparency or a misguided rebel whose radical doctrine will curtail expression?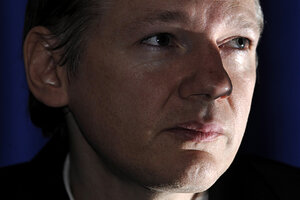 Lennart Preiss/AP/File
The week of WikiLeaks has not exactly found the French intelligentsia dancing around a bonfire of support for Julian Assange and his disregard for state secrecy.
The Australian founder of WikiLeaks is in the midst of publicizing 251,287 secret US diplomatic cables dating from the past four decades. All of the cables were provided early to several news organizations, including Paris-based newspaper Le Monde.
RELATED: WikiLeaks 101: Five questions about who did what and when
While many have accepted the leak as a forgone consequence of a global media age, some prominent French intellectuals are taking a step back and questioning the radical transparency that Mr. Assange says he supports.
Some here argue that the assault on US diplomatic secrets is part of a new "dictatorship of transparency" that actually limits expression. They say that diplomats may no longer speak so freely in such a blinding light.
"Let us not confuse a general outpouring with transparency," said former Foreign Minister Hubert Vedrine, adding that the leaks harmed "the confidence" requisite among states.
Others felt WikiLeaks continues a trend toward a "citizenry that basks in conspiracy," as Francoise Gaillard at the University of Paris put it, stoking a culture that revels in television shows such as "The X-Files" and "24."
---