David Cameron's spin doctor Andy Coulson quits over phone hacking scandal
British Prime Minister David Cameron's spokesman, Andy Coulson, resigned today amid growing controversy over his role in a phone hacking scandal while he was a British tabloid editor.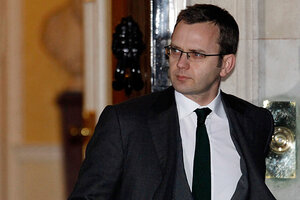 Suzanne Plunkett/Reuters
It's a rule as old as political spin doctoring itself: "When the spokesman needs a spokesman, it's time to move on."
The quote was a direct one from Prime Minister David Cameron's communications director, a former editor of Britain's News of the World newspaper, as he resigned Friday amid mounting pressure arising from the tabloid weekly's hacking of telephone calls during his time at the helm.
Andy Coulson's decision to wave goodbye to Downing Street came as little surprise to many in the British media. British police and prosecutors announced a fresh review of the controversy a week ago, and individuals such as the actor Sienna Miller have filed lawsuits over alleged hacking of their phones by journalists.
Mr. Coulson stepped down from the editor's chair four years ago following a furor over the hacking of phones owned by such public figures as Royal princes to Hollywood stars.
Coulson's departure, however, doesn't just open the prime minister's judgment to unprecedented criticism, it deprives him of a confidante who, in contrast to the privileged backgrounds of many in Mr. Cameron's inner circle, was regarded as a barometer of middle class opinion.
"You are looking at a Conservative leadership which, socially speaking, is from a fairly narrow – some would say almost exclusive – background," says Time Bale, a professor of politics at the University of Sussex, of why Coulson is so often described as "crucial" to Cameron's premiership.
---