Facebook is fine, says Pope Benedict, but real faces are better
Social networking sites such as Facebook offer Christians a 'great opportunity' to connect, Pope Benedict said Monday, but it should 'not take the place of direct human contact.'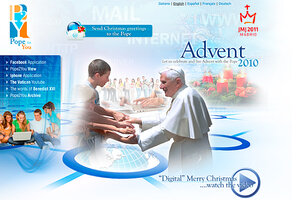 Screenshot
Pope Benedict XVI still won't let you poke him (he's not on Facebook), but the pope has offered new praise of the "great opportunity" of social networking sites and invited Christians "to join the network of relationships which the digital era has made possible."
With a caveat: Virtual relationships are no substitute for the real thing, he said.
"It is important always to remember that virtual contact cannot and must not take the place of direct human contact with people at every level of our lives," the pope said in a statement delivered Monday from the Vatican for the Catholic Church's World Day of Communications.
"Entering cyberspace can be a sign of an authentic search for personal encounters with others, provided that attention is paid to avoiding dangers such as enclosing oneself in a sort of parallel existence, or excessive exposure to the virtual world," he added.
Increasing ubiquity of social networking
This isn't a new message from the pope but comes amid mounting concern from psychologists worldwide about the increasing ubiquity of social networking.
The pope warned as recently as November that the Internet risked increasing a "sense of solitude and disorientation" among "numbed" youths, a finding echoed the 2010 book "The iConnected Parent," cowritten by Barbara Hofer.
---