Chechen terrorist issues stark video warning to Russians
Russia's most wanted terrorist, Chechen Doku Umarov, warned Muscovites of an upcoming wave of suicide assaults. His video comes just two weeks after a suicide attack at Domodedovo airport.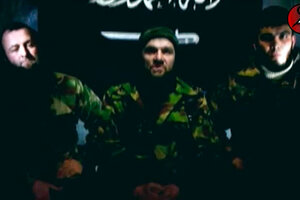 Reuters TV/www.kavkazcenter.com/Reuters
A new video posted over the weekend by Russia's most wanted terrorist, self-described Chechen "Emir" Doku Umarov, has warned already jittery Muscovites to brace for a "year of blood and tears." His threat: a wave of assaults by up to 60 suicide bombers trained at a secret base in the North Caucasus.
That chilling message comes just two weeks after a suicide attack on Moscow's Domodedovo airport killed 35 people and wounded almost 200.
The slaughter prompted an outpouring of criticism from leaders as well as security experts over ongoing vulnerabilities more than 16 years after Russian forces first invaded the North Caucasus republic of Chechnya in a bid to put down a separatist uprising.
"These operations will be carried out monthly, or weekly, as God allows and depending upon [Russian] reaction," Mr. Umarov says in thickly accented Russian in the video, which was posted in Russian at Kavkaz Center, a website that often carries statements from Islamist insurgents in Russia's south.
---
Follow Stories Like This
Get the Monitor stories you care about delivered to your inbox.