Moscow bombing prompts scrutiny of airport security worldwide
(Read article summary)
The Moscow bombing Monday that left 35 people dead has prompted calls for tighter airport security measures – but some say better intelligence is the answer to thwarting attacks.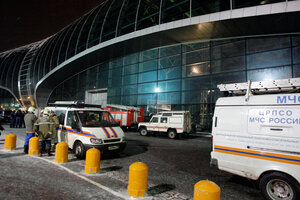 Misha Japaridze/AP
• A daily summary of global reports on security issues.
Airports around the world are taking a look at their security procedures following the airport bombing in Moscow on Monday that killed 35 people and injured more than 100. The blast happened in the arrival hall of one of Russia's busiest airports and has prompted discussion about whether checkpoints should be added to arrival halls.
A number of security officials, however, say that the move would be a step too far and do little to deter future attacks.
Rather than adding in more static security measures in arrival halls and generally ratcheting up airport security, authorities should invest their energy and resources in intelligence efforts that could prevent potential attacks, said Olivier Jankovec, director general of Europe's Airports Council International, according to Bloomberg. He added that the security procedures currently confronting passengers are already "burdensome" as it is.
"You can really do things more efficiently with better use of intelligence rather than trying to turn the airport into a fortress," he said. "We need a more efficient system where you're not controlling every single person in the same way and treating every grandmother as if she was a terrorist."
In Russia, President Dmitry Medvedev has come down hard on security officials following the attack, accusing security officials of not doing enough. Days after the attack, he sacked the regional head of the Interior Ministry's transport administration, reports the GlobalPost.
"Those who did not work properly must be punished," said Mr. Medvedev. "All officials responsible for organizing the [security] process must be brought to their senses."
---