Who has the fastest warplane? Russia tests another supersonic T-50 fighter.
Russia today tested a second prototype of its Sukhoi T-50 fighter, a fifth-generation warplane that is said to be comparable to the US F-22 Raptor.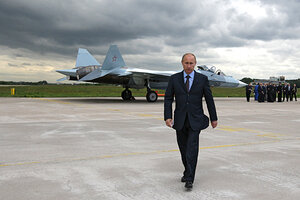 Alexei Druzhinin/RIA-Novosti/AP
Russia successfully tested a second prototype of its revolutionary new "fifth-generation" fighter plane Thursday, a futuristic, ultrafast, and stealthy warbird that may be in the possession of the Russian Air Force by 2013.
If Russian claims about the Sukhoi T-50 multirole fighter are true, then the country that has made do with Soviet-era arms for the past two decades is poised to roar into the 21st century with a cutting-edge weapons system that is so advanced and complex that only the US has been able to field one.
"This is a unique achievement for post-Soviet Russia, and we're leaving Europe, China, and Japan far behind" in the race to build a fifth-generation fighter, says Alexander Khramchikin, an expert with the independent Institute of Political and Military Analysis. "This puts Russia at the top level in military development, and even higher."
IN PICTURES: World's Top 10 Military Spenders
China recently tested its own version of a stealth fighter, but Russian experts say China's J-20 lacks many characteristics of the so-called fifth-generation warplanes, which are known for sustained supersonic cruise, over-the-horizon radar visibility, integrated weapons and navigation systems managed by artificial intelligence, and high-performance frames made from space-age materials.
---