Russia's ex-spy Anna Chapman launches website amid rumors of political run
The former secret agent has launched a flashy website to promote a sprouting career. Anna Chapman's potential bid for Russian parliament is rumored to have backing from Vladimir Putin's political party.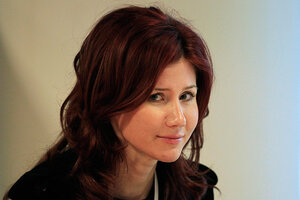 Sergei Karpukhin/Reuters/File
Anna Chapman, the flame-haired Russian spy expelled from the US along with nine comrades last summer, has launched a flashy website to promote her sprouting new careers in television, modeling, charity and – if the rumors are true – a political run for the State Duma this December as a candidate for Vladimir Putin's United Russia party.
On the new website's professional-looking home page, graced with an intimate photo of the sloe-eyed former secret agent, Ms. Chapman says that being outed as a spy helped her to grow up and discover a sense of duty to humankind.
"Before returning to Moscow in July 2010, I aspired to personal harmony and was more concerned with my own happiness," she writes. "But in due course my ideology changed. I came to understand that fulfillment in life comes from helping those around me. The day that I returned I consider to be my second birthday."
Chapman has obliterated the old KGB dictum that unmasked spies should fade into the sunset, leaving only their legends behind. She's posed wearing lingerie – James Bond-style, with a gun – in the Russian edition of Maxim, launched her own iPhone app, made a series of flamboyant public appearances, and lent her name to half a dozen different consumer products ranging from clothing to vodka.
---