Medvedev slams Putin's 'inexcusable' Libya 'crusade' comments
The sharp exchange of words on Monday reveals what some Russia experts say is a growing rift between Prime Minister Vladimir Putin and President Dmitry Medvedev.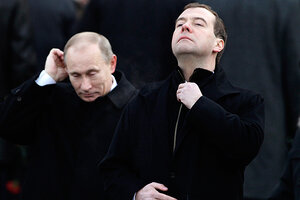 Ivan Sekretarev/Reuters/File
Russian Prime Minister Vladimir Putin and President Dmitry Medvedev exchanged sharp words Monday over the true nature of Western military intervention in Libya, leading many observers to wonder whether the gloves have finally come off in the long-anticipated battle over which of them will run for president in elections that are just one year away.
Though the two have sparred indirectly before, they have publicly maintained that everything is fine with the "tandem" arrangement under which they have jointly run Russia since Mr. Putin handpicked Mr. Medvedev to succeed him as president three years ago.
Both men have said they'd like to run again for what will be a six-year presidential term next year, and have insisted that they will decide amicably between themselves which of them will be the establishment candidate – a status that virtually guarantees success in Russia's heavily stage-managed political culture.
Perhaps it's not so amicable anymore.
---