At London Libya meeting, the 'soft power' side of international action
The meeting, in which world leaders offered humanitarian arguments for Qaddafi's ouster, established a 'contact group' to help guide the political process in the Libyan operation.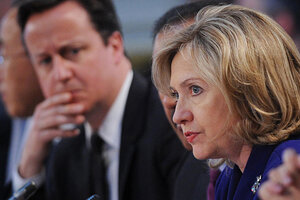 Stefan Rousseau/AP
Today's London meeting on Libya showed the "soft power" side of the international operation. Arab, European, and US leaders offered a raft of humanitarian arguments and a collective suasion to push for Muammar Qaddafi's ouster.
They promoted a new vision for Libya's future. It was "a new beginning," according to host British Prime Minister David Cameron, who talked about a "political process" and a new constitution, speaking as if Mr. Qaddafi had already decided to leave.
US Secretary of State Hillary Clinton stressed how far the international effort to deal with Libya had come in just 12 days. She said a cease-fire would be possible only "when humanitarian conditions are met," and said that in her reading United Nations Resolution 1973, which sanctioned the military action, did allow for the outside arming of rebels, although a decision on the issue had not been made.
NATO's in charge – so who is doing what in Libya?
French Foreign Minister Alain Juppe today also said France was "ready to talk" about arming the rebels.
---