Russia, Poland pledge reconciliation at crash site memorial
Russia's Dmitry Medvedev and Poland's Bronislaw Komorowski met on the one-year anniversary of a plane crash that killed Poland's former president en route to Russia. A probe of the crash has sparked controversy.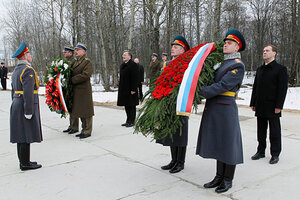 Vladimir Rodionov/Presidential Press Service/RIA Novosti/AP
The presidents of historical enemies Russia and Poland, Dmitry Medvedev and Bronislaw Komorowski, met Monday at the scene of the horrific air crash that killed Polish President Lech Kaczynski and 95 other Polish luminaries near Smolensk a year ago. The two men pledged to stay on the path of reconciliation, despite a fresh controversy over a memorial plaque removed by Russian officials from the accident site.
For the two countries, which have known little other than mutual hostility for 500 years, the crash that wiped out much of Poland's top elite while they were on their way to commemorate the World War II-era Soviet massacre of 20,000 Polish officers in Katyn Forest near Smolensk was a moment of supreme strain.
But leaders on both sides appeared to rise to the occasion, and the worst pitfalls seemed to be averted amid an outpouring of public sympathy in Russia and Kremlin assurances that the accident's causes would be fully investigated.
But a year later, much of that goodwill has dissipated. Many in Poland reject the findings of the official Russian probe, which blames the crash squarely on crew error compounded by interference from high-ranking passengers who urged the pilot to land despite bad weather warnings.
---