Poke fun at William and Kate's royal wedding? The censors say no.
In the land of the Magna Carta – as well as tart satire – footage of the royal wedding of William and Kate is banned from being used in any comedy program, as the Australian TV show 'The Chaser' just learned.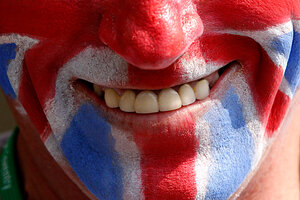 Cathal McNaughton/Reuters
Want to poke fun at the royal family? Not while the royal wedding is being broadcast, you can't.
The Australian TV show "The Chaser," which had planned an irreverent commentary to accompany images of the ceremony, has been pulled from ABC2's schedule, after learning that footage of the event is banned from being used in any comedy or satirical program.
The incident is likely to increase unease about the special treatment the British monarchy receives, particularly when it comes to suppressing criticism from those with antiroyal views. While many people are sympathetic with the royal family's desire to maintain a degree of control over the event, critics believe restrictive measures, which include the police's intended hard-line toward protesters on Friday, illustrate an unacceptable level of influence the monarchy continues to exert over the state and beyond.
ABC TV director Kim Dalton said he was "surprised and disappointed" that "The Chaser" could not be aired, while one of the show's stars, Julian Morrow, described the rule as "out of step with a modern democracy."
Comedy? Satire? Forget it.
Clarence House, which oversees the affairs of Prince William and drew up the broadcast contract with the BBC, issued a statement saying that it was "standard practice for these kinds of religious ceremonies to include a clause which restricts usage in drama, comedy, satirical, or similar entertainment programs."
Organizations championing freedom of expression have questioned whether the royals should have the right to impose such restrictions, especially given that the taxpayer will pick up most of the costs involved in organizing the event.
---