Wedding bells quiet Irish antipathy toward British royals – for now
The real test of Irish sentiment toward the monarchs comes in May during the first royal visit to the Republic of Ireland since its independence from Britain in 1920.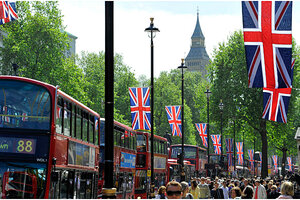 Toby Melville/Reuters
There is no danger of the green, white, and orange turning red, white, and blue for the day, but Irish scorn for the British monarchy is at an all time low as the royal wedding approaches.
Ireland, Britain's earliest colony and one of the first (other than the United States) to gain independence by overthrowing the government in a revolution, is perhaps the unlikeliest of all to celebrate the marriage of a monarch. And yet many in Ireland will be glued to the television on Friday, preoccupied with the pageantry of Prince William and Kate Middleton's wedding.
While street parties are planned in Britain – though markedly fewer than for previous royal events – celebrations in Ireland will tend toward the low key, though the odd semi-official event is planned. As part of its Riverfest festival of arts and entertainment, the city of Limerick will be screening the wedding on a large public screen.
Festival spokesperson Laura Ryan says the event is aimed at women: "We had planned a fashion event long before we knew about the wedding. Then we were worried that a lot of women would stay at home to watch it, so we decided to screen it."
"It's not political. People want to see what Kate Middleton is wearing," she says.
The move was initially controversial. Local councilor Michael Sheahan, a member of the governing Fine Gael party, objected on the basis of offending people's "sensibilities" and also raising logistical issues, but has since backed down.
---