Germany, Austria open doors to EU's migrant workers
Germany and Austria became the last two EU members to lift labor market restrictions on workers from Eastern Europe on May 1.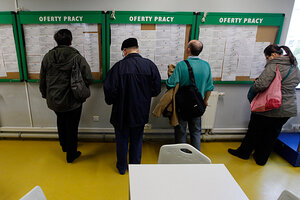 Kacper Pempel/Reuters
The doors to Germany and Austria have opened wider to foreign workers after the two European Union nations lifted restrictions on migrant laborers from Eastern Europe.
On May 1, these last two "old" EU member states removed labor market restrictions keeping out workers from "new" members Poland, the Czech Republic, Slovakia, Hungary, Estonia, Latvia, Lithuania, and Slovenia.
While recognizing that Germany's aging workforce could benefit from a few fresh pairs of legs, many politicians and trade unionists on this side of the River Oder are looking eastward with mixed feelings, wondering if the new "open door" policy will fuel economic growth or strain the social system. The move is further charged by the growing debate in Europe over the merits of multiculturalism.
---