Obama's speech to British Parliament praised for strength, humility
Obama is only the fourth foreign dignitary to address Parliament at Westminster Hall since World War II. He received a standing ovation for his speech on the US-Europe alliance.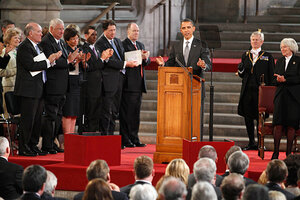 Charles Dharapak/AP
In a historic address to the British Parliament today, President Obama insisted that even while a new world order was being shaped, the US, Britain, and their allies would continue to play an essential role in bringing peace and prosperity to the world.
"As millions are still denied their basic human rights because of who they are, or what they believe, or the kind of government they live under, we are the nations most willing to stand up for the values of tolerance and self-determination that lead to peace and dignity," he said, adding that the alliance between the US and Europe would continue to shape a world "in which new nations could emerge and individuals could thrive."
The wide-ranging speech, which also focused on the economy, nuclear proliferation, and the importance of education, received a standing ovation from Parliament and was praised for its statesmanlike themes and tones.
"He recognized the strength of the past but stressed the need to turn the values upheld by Anglo-American relations in their origins into universal values," says James Ellison, of the School of History at Queen Mary, University of London. "This was a speech of interdependence and multilateralism. Obama's gone a long way today to extend America's history beyond Bush.
---