E. coli: Europe lambasts Russia's ban on EU vegetable imports
The EU called Russia's response disproportionate to the outbreak of an E. coli strain that has been found on vegetables grown in Europe.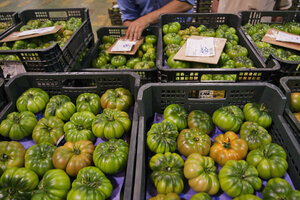 Francisco Bonilla/Reuters
In a move to stop the spread of a new E. coli strain, Russia – the EU's largest market for fresh produce – has banned imports of fresh vegetables from all European Union countries. The decision could further hurt European vegetable sellers, many of whom are already reeling from collapsed demand for their goods.
The measure is designed to stop the spread of so-called EHEC bacteria, a strain of E. coli that has been found on vegetables in several European countries, but mainly in northern Germany. Within the last few weeks, 16 people in Germany and one in Sweden have died after contracting a syndrome associated with EHEC.
The EU called the Russian ban disproportionate.
"The EU commission will write a letter to the Russian government, demanding an explanation," said commission spokesman Frederic Vincent in Brussels. European fruit and vegetables worth €3 to €4 billion ($4.3 to $5.8 billion) are sold in Russia every year, making it the biggest market for EU fresh produce.
Within the EU, import bans like the one imposed by Russia are not allowed. Member states can remove suspicious products, and inspect and destroy them if they turn out to be contaminated, but not put a blanket ban on them.
EU food safety regulations demand that member countries report threats to public health, which could affect more than one country, to the European Commission. Brussels checks such reports and disseminates the information to the whole Union if the risk is deemed serious.
---