Russia's Medvedev sides with human rights activists on Sergei Magnitsky killing
Russian President Dmitry Medvedev surprised many when he backed a report blaming the 2009 fatality of anticorruption lawyer Sergei Magnitsky on prison brutality.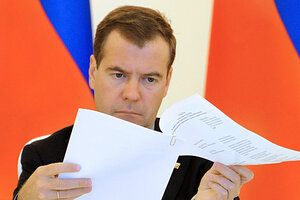 Vladimir Rodionov/RIA Novosti/Kremlin/Reuters
It's almost unheard of for a Russian leader to side with human rights activists against his top officials.
But Russian President Dmitry Medvedev appeared to do that Tuesday after being handed a scathing report, prepared by the Kremlin's own human rights commission, that described the 2009 prison death of anticorruption lawyer Sergei Magnitsky as the work of prison guards who savagely beat him and doctors who refused to treat him. The report also blamed top officials for covering up the whole affair.
"The case of Magnitsky is a very sad case, for this man is dead, and in all likelihood, there were certain criminal actions that led to this result," Mr. Medvedev said after meeting with the commission, an advisory body that includes some of Russia's top human rights campaigners.
While the Kremlin commission's advice is often ignored, experts say things might be different this time. The report given to Medvedev, which clashes sharply with the findings of an official investigation, not only describes the appalling conditions Mr. Magnitsky was subjected to but also names several prison officials and medical authorities who allegedly colluded in the abuse.
---