Battle for Tour de France victory down to 57 seconds
Andy Schleck, the runner-up from the past two years, is leading the overall standings. But Australian Cadel Evans could overtake him before Sunday's finale in Paris.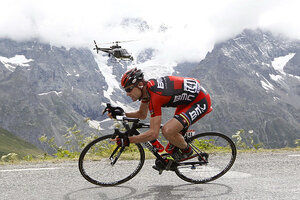 Stefano Rellandini/Reuters
A day after an inspired solo effort launched Andy Schleck back into contention for the Tour de France lead, the Luxembourger went one step further: He captured the yellow jersey worn by the race's overall leader.
With a calm, determined ride up the diabolical climb of Alpe d'Huez, the 26-year-old put himself into position to win his first-ever Tour during today's Stage 19, won by France's Pierre Rolland.
Schleck heads into tomorrow's penultimate stage with nearly a minute lead over his closest rivals. One of them is his brother and Leopard Trek teammate, Fränk Schleck. But Fränk, currently sitting in second, is not expected to try and overtake Andy this weekend.
The focus instead is on the third-placed rider: the mercurial Australian Cadel Evans, who managed to finish with the Schlecks on Alpe d'Huez, despite suffering a mechanical failure during the stage. Evans specializes in the format for tomorrow's race, an individual time trial in which cyclists ride alone against the clock.
"[Frank and I] are 1 and 2 – I don't think we could have done any more," said Andy Schleck. "And I think one minute is a lot in the time trial, even if Cadel is the specialist."
---