As Norway names dead, religious leaders and counselors offer comfort to a nation
The Oslo Cathedral, a hub for memorials to terror-attack victims, is offering nightly services to give Norwegians a place to grieve over last week's violence.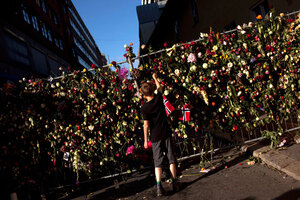 Emilio Morenatti/AP
As Norwegian police begin naming the victims from last Friday's terrorist attacks, adding a human face to the country's loss, caregivers and aid organizations say they stand ready to help the public sort out its raw emotions.
Survivors and mourners alike are still coming to grips with the heavy death toll from the shooting spree at the lake island of Utoya and the bombing in downtown Oslo which killed at least 76. Many are particularly disturbed over the mass murder on Utoya, where police claim Anders Behring Breivik shot 68 people – many of them in their late teens and early 20s – dead at a summer camp.
"Everyone seems beaten," says Oslo resident Sigvald Sveinbjornsson, calling the deaths "extremely meaningless."
"It's impossible to comprehend," he adds.
Investigators have portrayed Mr. Breivik's actions as chilling, saying he hunted down the campers, many of whom hid in the woods or dove into the lake to escape. The attacks have triggered an outpouring of sympathy both at home and from abroad, with world leaders and Norway's institutions offering their support.
Police have provided grief counseling and lawyers to the victims to help them navigate the impending legal process. The University of Oslo has opened telephone lines and prayer rooms to those seeking solace, and made the university's priest available to students.
---