Why Europe's debt crisis is still spreading
European credibility seems to be the issue. Investors are increasingly edgy over whether EU policymakers can agree on how to ease the debt crisis.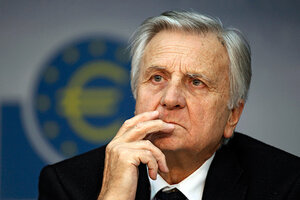 Mario Vedder/dapd/AP
Europe's economy remained in critical, but stable condition Thursday, as risks mounted of a double-dip recession in big economies like Italy and Spain that could compound woes elsewhere, including the United States.
Markets grew ever more skeptical that European policymakers will be able to agree on measures to stem the crisis in time, as investors lose faith in the region's convoluted decision-making process.
Indeed, crisis talks are ongoing. Political and financial leaders are even delaying their sacred August vacations. And the European Union's executive head, EU Commission President José Manuel Durao Barroso, released a letter Thursday addressed to country leaders illustrating just how desperate times are.
"Developments in the sovereign bond markets of Italy, Spain, and other euro area member states are a cause of deep concern. Though these developments are clearly unwarranted, they reflect a growing skepticism about the systemic capacity of the euro area to respond to the evolving crisis," Mr. Barroso wrote. "Whatever the factors behind the lack of success, it is clear that we are no longer managing a crisis just in the euro-area periphery."
The European Central Bank (ECB) decided today to leave interest rates unchanged at 1.5 percent and offered cheap credit to eurozone private banks to increase liquidity. Both moves were expected and simply acknowledge that the economy of the 17-member eurozone is grinding to a halt and that inflationary pressure is secondary to growth issues.
---