London riots strain police force. Have spending cuts played a role in unrest?
The London riots and looting this weekend were among the worst civil disturbances Britain has seen in a quarter-century. Some blamed government spending cuts for sowing unrest and weakening police.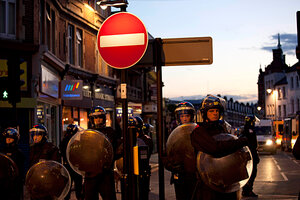 Karel Prinsloo/AP
A spate of London riots and looting, sparked by the fatal shooting of an alleged gangster, have posed a serious test of Britain's policing capability just 12 months ahead of the 2012 Summer Olympics. It has also raised questions about the social impact of Prime Minister David Cameron's five-year austerity plan to dramatically cut back government spending – a plan aimed at bolstering Britain's economy amid a European economic crisis.
Parts of London cleared up today after some of the worst civil disturbances in the capital for more than 25 years, which began Thursday night after police shot dead a local man in racially mixed Tottenham. The impoverished inner-city area of north London was the scene of race riots in 1985 during which policeman Keith Blakelock was murdered by a mob.
Riots and looting, some of which police said was just plain criminality, spread to other London suburbs over the weekend. London police officials tripled the number of officers on the ground from Saturday to Sunday night, and Deputy Assistant Commissioner Stephen Kavanagh said there would be a third more officers on the ground this evening.
Britain's Tories under fire
---