At eurozone meeting, ministers find unity only in rejecting Geithner
At a meeting of European finance ministers in Poland, leaders largely rejected proposals from Treasury Secretary Timothy Geithner on how to rescue the ailing eurozone.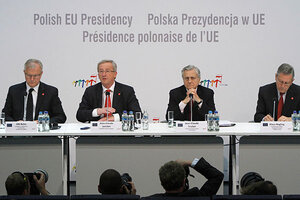 Czarek Sokolowski/AP
At the end of tumultuous week at financial markets and in European politics, European Union finance ministers meeting in Poland were trying to get a grip on the eurozone debt crisis.
Investors in global markets pinned a lot of hope on the two-day meeting, expecting it to provide a message of unity and strong governance within the monetary union. But at the end of day one, analysts say so far this message still can't be heard. Instead, many say, a new level of dissent has emerged, this time between Europe and the US.
In a sign of growing international concerns about the crisis, US Treasury Secretary Timothy Geithner took part in the talks.
According to the Dow Jones news agency, Mr. Geithner urged his EU colleagues to overcome their divisions on how the debt crisis should be solved. He reportedly said: "What's very damaging is not just seeing the divisiveness in the debate over strategy in Europe but the ongoing conflict between countries and the European Central Bank."
His remarks were not received well. Austrian Finance Minister Maria Fekter seemed to speak for most of her colleagues when she said, rather frankly: "I found it peculiar that even though the Americans have significantly worse economic data than the eurozone, they tell us what we should do."
---