Is an Arab Spring activist set to win the Nobel Peace Prize?
With the committee expected use the Nobel Peace Prize to promote human rights and social media, experts predict an Arab Spring activist will win.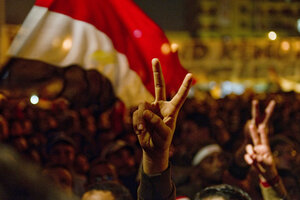 Ann Hermes / The Christian Science Monitor
Experts predict the Nobel Peace Prize will be given tomorrow to an Arab Spring activist – though which one is under debate – as part of the Norwegian Nobel Committee's expected focus on human rights and the role of the social media this year.
Kristian Berg Harpviken, director at the Peace Research Institute Oslo, believes the award will go to Esraa Abdel Fattah, co-founder of Egypt's April 6 movement, which was established first as a Facebook group in the spring of 2008. The movement is credited with playing arole in the 2011 uprisings that led to regime change in Egypt.
Asle Sveen, a Norwegian historian, predicts the award may go to Lina Ben Mhenni, a Tunisian blogger and university lecturer, who was critical of the Tunisian regime prior to the uprising of December 2010.
The Nobel committee appears eager to contribute to current political processes with the award. The Arab Spring began in December 2010 with protests in Tunisia and has spread across the Middle East and North Africa. The revolutionary wave has led to the overthrow of three heads of state, most recently Libyan leader Muammar Qaddafi.
---