Can Mario Monti fulfill promise to 'redeem Italy' as prime minister?
Italy's Prime Minister-designate Mario Monti will likely face political resistance to the reforms Europe demands. Markets showed an initial positive response to his nomination to succeed Berlusconi.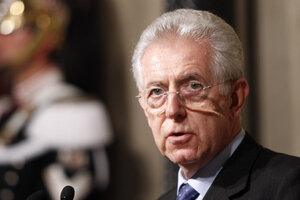 Pier Paolo Cito/AP
Italy's Prime Minister-designate Mario Monti, tapped Sunday night to lead his country through one of the worst crises in the eurozone, vowed to "redeem Italy" in the eyes of Europe. But despite early positive response from the markets, Mr. Monti's government, once approved, will face huge political challenges in steering Italy clear of its financial crisis.
Lack of credibility in the eyes of international markets is widely seen as the key issue that has forced former Prime Minister Silvio Berlusconi to resign following 17 years of on-and-off rule. Under his government, Italy's public debt has risen to 120 percent of the gross domestic product (GDP), leading some analysts to fear the country may eventually go bankrupt.
In order to further reassure international markets, President Giorgio Napolitano put forward Monti, an economist who graduated from Yale University and served as antitrust commissioner for the European Union and as president at the Bocconi University in Milan. The newly nominated prime minister is expected to include in his cabinet a "dream team" of technocrats – likely among them Fabrizio Saccomanni and Lamberto Dini, both former heads of Italy's central bank, and Pietro Ichino, a senator and a labor law scholar.
Monti is expected to form a new cabinet, which will have to be approved by the parliament, this week.
Once a new cabinet is formed, its major tasks will be reducing the public debt by raising taxes and lowering spending, while strengthening productivity – which has been stagnant for the past decade – by easing labor laws. The European Commission, which is aiding Italy by buying billions of euros of its debt, has asked in return that Italy approve a series of austerity measures.
---