Why opposition is urging voters to sabotage ballots in Russia election
Voters should spoil their ballots in Russia's elections Sunday to protest a stage-managed process, says a leader whose party has been banned. One poll finds that 80 percent of Russians say voting has no impact.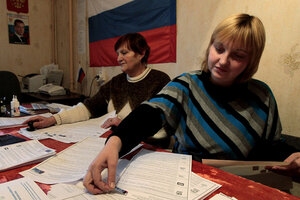 Vasily Fedosenko/Reuters
For those who argue that the cup of Russian democracy is half full because it offers a limited range of electoral choices, Mikhail Kasyanov has a sharp retort: half full means no democracy at all.
"Yes, maybe 50 percent of the population will find the party they want to vote for on the ballot, but without acceptable choices for the other 50 percent, elections cannot be considered free. They are just an imitation of democracy," says Mr. Kasyanov, a former prime minister and co-chair of the liberal People's Freedom Party (PARNAS), which has been banned from participating in the Dec. 4 polls to elect a new State Duma, Russia's 450-seat lower house of parliament.
Kasyanov and his fellow leaders of PARNAS, including former deputy prime minister Boris Nemtsov and independent politician Vladimir Ryzhkov, have embarked on a strategy that is as controversial as it is risky. They are urging Russians to go to the polls and deliberately spoil their ballots in protest against a system that provides all the trappings of democratic choice while carefully stage-managing the process to ensure the final result required by the Kremlin.
"We don't think it's wise to raise hopes among people that any casting of votes will change the election outcome that the authorities will announce," Kasyanov says. "But the institution of elections wasn't invented by Vladimir Putin; it's the people's house. That's why we are urging people to come out to the polling stations on election day to show their opposition to the temporary occupation of their home by Putin and his regime."
---