Madonna, in Moscow, wades into Pussy Riot trial controversy
The Russian Orthodox church, responding angrily to Madonna's sympathy for the embattled Pussy Riot punk rock group, charged that 'this little singer is openly mocking our laws.'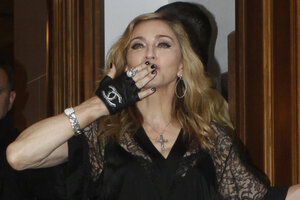 Ivan Burnyashev/REUTERS
Madonna waded into the Pussy Riot controversy Tuesday, riling supporters of the Orthodox church and encouraging beleaguered Russian liberals with a strong statement of support for the three women accused of profaning an Orthodox altar with an obscenity-laced "punk prayer" last February.
The Queen of Pop, who is in Moscow to open a branch of her Hard Candy luxury fitness clubs and to play a single concert, told journalists it would be "a tragedy" if the Pussy Riot women had to serve any more jail time than the five months they have already been in pretrial detention.
Their trial, which has mainly showcased the offended feelings of Orthodox believers over the "blasphemous" 40-second performance in Moscow's Cathedral of Christ the Savior, is wending through its final stages in Moscow's Khamovnichesky District Court.
On Tuesday, prosecutors called for the women to receive a three-year jail term, which is far short of the seven years they could receive on the charge of "inciting religious hatred." That could reflect President Vladimir Putin's remarks to journalists last week, in which he hoped out loud that the women wouldn't be punished "too harshly" even though there was "nothing good" in Pussy Riot's behavior.
"I am against censorship and my whole career I always promoted freedom of expression, freedom of speech, so obviously I think what's happening to them is unfair and I hope that they do not.... I hope they do not have to serve seven years in jail," Madonna told journalists in Moscow Tuesday. "That would be a tragedy."
---