Europe's bank promises to rescue ailing economies, but with strings
European Central Bank President Mario Draghi announced that the ECB would buy the bonds of ailing eurozone nations. But the plan's success turns on conditions that have yet to be spelled out.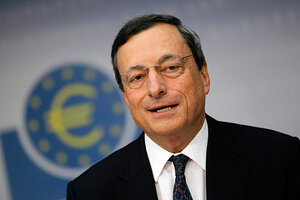 Alex Domanski/Reuters
Whether Mario Draghi can save the euro is unclear. But the president of the European Central Bank seems to be rallying to the cause.
Today in an announcement watched around Europe and the world he said the ECB is ready to buy in "unlimited" quantities the bonds of ailing eurozone nations, though subject to a "conditionality" that remains to be spelled out.
Saying that Europe's overall economy is expected to shrink for at least another year, Mr. Draghi said the ECB plan should give eurozone nations in crisis time to put their houses in order.
The announcement followed a key meeting of the bank's governing council in Frankfurt, and was taken as good news in Greece, Spain, and Italy, now reeling under debt in the most significant financial crisis here in decades.
Draghi reaffirmed the commitment of the council to Europe's single currency at a time when markets are pushing heavier borrowing costs on ailing nations in anticipation that they may default or leave the eurozone.
The affable and unelected chief banker has found himself in the midst of what has become not just an economic crisis, but a widening political crisis over whether Europe, the EU, and the eurozone can hang together.
---