Church of England facing 'major constitutional crisis'
After the surprising failure of the Church of England's legislative assembly to ratify plans to allow women bishops, senior clerics worry England's state church could face government intervention.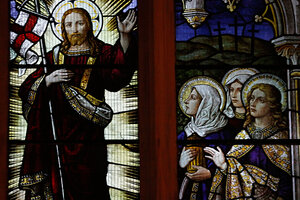 Luke MacGregor/Reuters
Bitter divisions over the issue of gay marriage have long been considered the greatest potential threat to the unity of the Church of England, officially the country's state church and one with a role in lawmaking.
Until now.
A week after the surprise failure of the church's legislative assembly to ratify plans to allow women bishops – an issue that was widely expected to have been the outgoing Archbishop of Canterbury's parting achievement – the mother church of the worldwide Anglican community is facing what an internal memo for senior clerics described as a "major constitutional crisis."
That warning by the secretary general of the church's General Synod, went on to say that the church must begin consecrating women bishops and endorsing them in 2015, when the synod has another opportunity to vote, or risk England's Parliament taking the issue out of its hands, reported The Times newspaper.
If Parliament took over the issue, it would mark the first such intervention in the affairs of a divided church since 1874, when an act introduced by the Archbishop of Canterbury forbade certain practices undertaken at the time by Anglo-Catholic ritualists.
The results on that occasion were far from happy: Five priests went to prison before prosecutions were ended in 1906, notes Robert Morris, author of "Church and State in 21st Century Britain: The Future of Church Establishment."
Though even the talk of an intervention is historic, "Parliament is not going to legislate unless there is agreement within the church. And it would be most reluctant to do so," says Mr. Morris. It raises the question of the church-state relationship, but Morris says that although the idea of separating church and state has come up in the past, it's an unlikely option.
---