Murdoch empire faces new scandal, potentially far more damaging
Three major reports this week detail an alleged satellite TV hacking scandal by Rupert Murdoch's News Corp that reportedly cost its rivals tens of millions of dollars.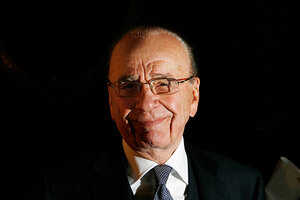 Lucas Jackson/Reuters/File
A series of investigative reports by journalists around the globe have put Rupert Murdoch's News Corporation at the center of a new hacking scandal. If proven true, the allegations could be far more devastating than the scandal that brought an end to the News of the World newspaper last year, since this one strikes at the financial heart of Mr. Murdoch's empire: News Corp's valuable television holdings.
The Australian Financial Review wrote in a March 28 report that News Corp cost its TV rivals tens of millions of dollars by "promoting" hackers' efforts to give customers unauthorized, cheaper access to its rivals' broadcasting. The AFR, Australia's biggest financial newspaper, writes that "the piracy cost the Australian pay TV companies up to $50 million a year and helped cripple the finances of Austar," a rival satellite TV company.
The AFR's March 28 report, which was based on a four-year investigation, was published just two days after a similar report by BBC News program Panorama. The BBC report said that according to a British hacker, a former News Corp subsidiary leaked information about how to hack into the software of rival satellite TV provider ONdigital, devastating ONdigital's business in Britain. And the Independent reported earlier this week on similar accusations by an Italian hacker regarding Nagra France, another satellite TV provider operating in Italy.
---