Follow your labels: American apple juice is a product of China
Sixty percent of US apple juice comes from China, where they don't drink apple juice.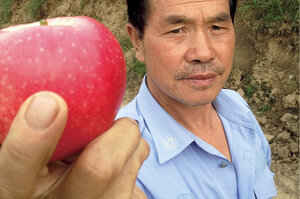 Kelsey Timmerman
My bus from Xi'an, China, passed by the giant apple-shaped structure on the edge of the city of Luochuan. At the core of the apple is an empty convention center; next to it is the apple museum and apple hotel. All this anticipates an apple tourist boom to match the apple-production explosion here.
Across the aisle on the bus, a grandfather – Feng Zi Han – held his chubby-cheeked baby granddaughter. He is an apple farmer; and when we got off the bus, he invited me to visit his farm.
Nearly 60 percent of apple juice sold in the United States is imported from China, according to US Department of Agriculture data. That's why I went there last August: I wanted to see what that meant for Chinese apple farmers. So I took Mr. Feng up on his offer.
I could barely hear the invitation over the pounding jackhammers and the swinging picks. Every road in town was being widened.
"All the apple farmers are buying cars, and we need bigger streets," Feng explained.
The next day he took me to visit the orchard. He didn't have a car yet, but he did have a motorcycle with a trailer on the back in which he placed a wooden stool for me to sit on. He handed me a pink parasol to block the sun.
His orchard sits close enough to a brand-new electric station that the hum is audible. The trees were smaller than the apple trees I've come to know in the Midwest. They didn't look as if they were growing apples at all: Small brown paper bags were used to cover each apple, warding off pests.
Feng has been farming this land for more than 20 years, but things really started to change in the 1990s, when the government began developing the region's apples and brought in scientists to teach the locals modern techniques.
---