Follow your labels: Feeding chocolate lovers at low, or no, wage
Solo was virtually a slave on a cocoa farm that supplies US chocolate producers.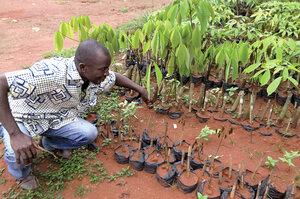 Kelsey Timmerman
HautSassandra region, Ivory Coast
I freed a slave in Ivory Coast. Well, at least I thought he was a slave. The line between exploitation and opportunity blurs in extreme circumstances. He may have just been a guy who was having second thoughts about working for a year on a cocoa farm for $300.
Solo was alone. He had followed false promises from Ghana to work on a cocoa farm in Ivory Coast, the West African nation that, according to the US Department of Agriculture, supplies 52 percent of the cocoa in American chocolate products.
His bare, cinder-block room on the farm wasn't really his. He owned nothing himself. It was his "master's" room. He ate his "master's" food once a day. Each time Solo said "master," a shiver shot down my spine.
Solo was possessed by another human being. He was property, used to tend the cacao trees, harvest the pods, and split them open with a machete.
Solo, age 20, had worked on his master's small farm for four months when I met him, but he hadn't been paid. He had asked to leave and hadn't been allowed to. The dense forest that surrounds the remote village was a virtual prison from which he couldn't afford transport to leave. Even if he could have, he didn't have a passport. He had come here from another cocoa farm in Ivory Coast. He'd been lured to that first farm by a woman who arrived in his village in the neighboring nation of Ghana and promised him an opportunity to make $300 for a year's worth of work.
---