Follow your labels: Starbucks coffee farmers who never heard of Starbucks
Despite the siren logo on their property, some Colombian coffee farmers receive no benefit from Starbucks' sustainability program.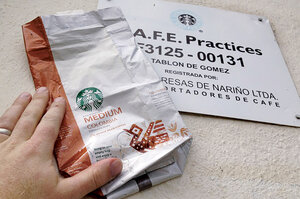 Kelsey Timmerman
EL TABLóN DE GOMEZ, Colombia
"How far do we go for a better cup of Colombian coffee?" Starbucks asks on its website. "Six thousand feet – straight up. Sounds extreme, we know. But high atop the majestic Andes, in a rugged landscape of simmering volcanoes, is where the finest coffee beans in Colombia like to grow."
Not only did I want to drink this coffee after reading that narrative, I wanted to visit. I wanted to meet the people who grow my coffee. So in the spring of 2012, I contacted the Starbucks public relations and customer service departments repeatedly, telling them I was working on a book about the global food economy and asking them to point me in the right direction. I finally received an answer from a customer service agent: "Unfortunately, the information you are requesting is proprietary."
So I went to Colombia and found the farmers on my own. Starbucks was right; it was extreme. High atop the majestic Andes in a rugged landscape of simmering volcanoes, I straddled a coffee tree as if it were a fireman's pole and hung on for dear life. The shivering trunk was the only thing keeping me from falling thousands of feet down the volcanic slope.
Meanwhile, Felipe Ordonez, a Colombian coffee farmer who tends 4,000 trees near the village of El Tablón de Gomez stood in the loose volcanic soil as if he were watching grass grow, probably questioning his decision to hire me as a coffee worker for the day.
---