Whale Wars: The aggressive tactics of Sea Shepherd Paul Watson
(Read article summary)
A collision Tuesday with a Japanese whalers destroyed a $2 million high-tech speedboat operated by Paul Watson and his anti-whaling outfit, the Sea Shepherd Conservation Society. It was probably the costliest collision yet for the group. But Watson has a long roster of mishaps at sea.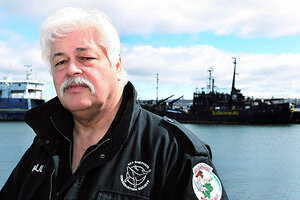 Paul Darrow/Reuters/File
Paul Watson calls his reality TV show "Whale Wars" for a reason: When he says he's "fighting" to save whales he isn't using a metaphor.
For decades, Mr. Watson and his Sea Shepherd Conservation Society have rammed, sabotaged, shot water canons at and thrown stink bombs on whalers and commercial fishing vessels. The Ady Gil, the high-tech speedboat he sought to deploy against Japanese whalers in the Southern Ocean this winter, may have been his most expensive loss so far at sea but his has been a career filled with dangerous mishaps and financial losses - both for his crews and for the boats he's targeted.
In a press release Wednesday, he said while the loss of the Gil, which he said was worth $2 million, was a heavy blow, he'd happily trade it to save the life of one whale. While more whales are likely to be successfully harpooned by the Japanese fleet this season thanks to the loss of the ship and the diversion of other resources its caused, his extreme views on the matter were captured in a war of words between Watson and Greenpeace in 2008. Greenpeace, which opposes the use of violence in its campaigns because it says its conservation views are more effectively spread into policy levels by constructive engagement, was singled out by Watson as "Yellowpeace."
---