At London Afghanistan conference, US, allies target strategy and cost to buy off Taliban
(Read article summary)
The US and its NATO allies in Afghanistan are moving toward a greater commitment to making peace with the Taliban, including paying some of them off and finding a home for others in the Afghan security forces.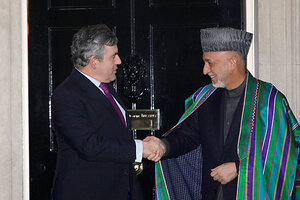 Andrew Winning/Reuters
Afghanistan President Hamid Karzai – who, according to a diplomatic cable in November by the US ambassador to Kabul, shuns "responsibility for any sovereign burden" – has been lobbying for international support to bring the Taliban into his government in exchange for peace. And at a conference on the future of Afghanistan to be held in London tomorrow, he appears likely to get it.
The Washington Post reported Wednesday that the conference will announce that Britain and Japan will jointly run a $500 million fund to "reintegrate" the Taliban into Afghan society. The point of the fund will be to provide Taliban fighters an alternative income, rather than what they're paid for fighting, and also reassure the men who agree to come in from the cold that they want be targeted for arrest and persecution.
Though the full details are not yet clear, such a move would probably include a promise to provide some of these men jobs in the Afghan Army and police, similar to a successful program that the US military ran in Iraq for Sunni Arab insurgents in recent years. Western diplomats also say that Karzai is willing to give posts in his government to Taliban leaders, up to and including cabinet posts, in exchange for a piece deal.
---