Sudan vote is 'a Hitler election,' says ICC prosecutor Ocampo
(Read article summary)
A day after Sudan President Omar al-Bashir threatened to cut off foreign election observers' fingers, ICC prosecutor Luis Moreno-Ocampo said the upcoming Sudan vote is 'like monitoring a Hitler election.'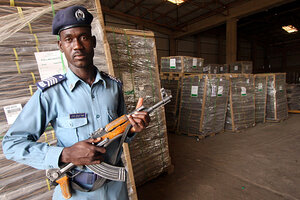 Mohamed Nureldin Abdallah/REUTERS
A day after Sudan president Omar al-Bashir threatened to cut the fingers off election observers, the International Criminal Court's chief prosecutor, Luis Moreno-Ocampo, called Sudan's upcoming vote "a Hitler election."
Mr. Moreno-Ocampo, who seeks to prosecute Mr. Bashir for crimes committed in Sudan's troubled Darfur region during a war that killed at least 1.9 million people, today said election observers face "a big challenge" in Sudan.
"It's like monitoring a Hitler election," he said at a press conference in Brussels, according to Agence France-Presse.
Bashir is running in the legislative, regional, and presidential elections set for April, the first multi-party vote in 24 years. Last week, however, foreign observers recommended to delay the elections. The Atlanta-based Carter Center voiced concern that Sudan's election commission can deliver a successful election on time, as the Monitor reported.
Bashir shot back by threatening to expel foreign observers.
"We want them to observe the elections, but if they interfere in our affairs and demand the delay, we will cut their fingers and put them under our shoes and expel them," he said Monday, according to broadcasts of his speech.
---