Transit security up worldwide after Moscow subway bombing
(Read article summary)
Transit systems across Europe and the US increased security Monday following the Moscow subway bombing that killed nearly 40. But experts say long-term measures are what's needed.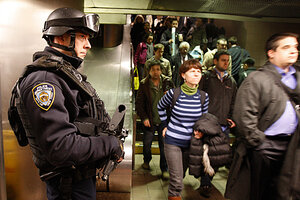 Kathy Willens/AP
Mass transit systems around the world ramped up security Monday in the wake of the Russia subway bombing that killed at least 35 people.
But subway surveillance will likely return to normal within the week, and today's actions will do nothing to prevent future attacks unless cities boost their security measures, says former New York City Police Commissioner Howard Safir.
"Episodic security increases don't work. You need constant security," said Mr. Safir in a telephone interview today. "You need to have enough security to think you're safe, but not to be obtrusive."
There's the rub. Daily, Moscow's metro system transports 7 million people, New York's subway transports 5 million, and London's tube transports 3 million. Sheer logistics make it impossible for mass transit to implement the thorough checks seen in airports.
IN PICTURES: Moscow Metro bombings
"If you tried to screen every single person who went into the subway, it would bring it to a halt," says Safir, who was fire commissioner from 1994 to 1996 and police commissioner from 1996 to 2000. "Think about Madrid, think about London – terrorists, no matter their stripes, are looking for soft targets. And mass transit is a soft target."
---
Follow Stories Like This
Get the Monitor stories you care about delivered to your inbox.