Super Bowl meets Bollywood at cricket's IPL match
(Read article summary)
Cheerleaders, big lights, and dance – put them together and what have you got? The Indian Premier League, or cricket's IPL match.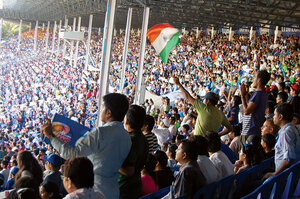 Taylor Barnes
• A local, slice-of-life story from a Monitor correspondent.
The beat of "We Will Rock You" shakes the South Bombay stadium as fans in devil horns and curly blue wigs hoot party horns for belly-baring blond cheerleaders on a platform flanked by flaming torches. Red, white, and green fireworks streak the 5 p.m. sky as a sportscaster draws out the chant: "MUMBAI... INDIANS!"
If it sounds like the Super Bowl has met Bollywood, then the Indian Premier League (IPL) has done its job. Just three seasons into its new faster-tempo and hypercommercialized brand of cricket, the multibillion-dollar venture has taken the imperial gentleman's sport, where matches could last for five days, and souped it up into an appetizing three-hour after-work special.
This Tuesday match pits the Mumbai Indians against the Delhi Daredevils, team names created when the IPL began in 2008. (Others include the Chennai Super Kings, Kolkata Knight Riders, and Rajasthan Royals.) As the packed stadium sporting the teams' colors shows, the IPL built large fan bases as quickly as it did purist protesters, and controversy – the IPL chief Lalit Modi was suspended and charged with 22 counts of corruption in April.
---