Snake decline likely in America, too, say biologists
(Read article summary)
The drastic snake decline seen across five countries in Europe and Africa is likely happening in America as well, says Dr. Rafe Brown of the University of Kansas.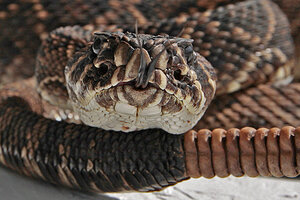 Dave Martin/AP
The snake decline reported this week across Europe and Africa could well be happening in America as well, say biologists.
"If you get your average herpetologists together, you'd probably arrive at a consensus that a lot of scientists feel that even across their own lifetimes there are negative changes in terms of population," says Rafe Brown, chief curator of herpetology at the University of Kansas. "It's clear that overall the trends are not good and we're looking at pretty serious declines."
"The bottom line," Dr. Brown adds in a telephone interview Thursday, "is that few of these species can survive when 99 percent of their habitat has been turned into subdivisions."
IN PICTURES: Most dangerous snakes
The journal Biology Letters on June 9 published a finding that 11 of 17 snake populations in the United Kingdom, France, Italy, and Nigeria plunged between 1998 and 2002, before stabilizing at a new, lower level. Some populations fell by as much as 90 percent, according to the study from the Centre for Ecology & Hydrology in England, which collected data between 1987 and 2009.
The report's lead author, Chris Reading, says he hopes that his study, the world's first global study on snake populations, will spark more herpetologists worldwide to examine their own data, including in America.
---