After Sarah Shourd's release, questions over the other US hikers
(Read article summary)
American hiker Sarah Shourd has been reunited with her family, but questions remain over the two Americans still in Iranian custody.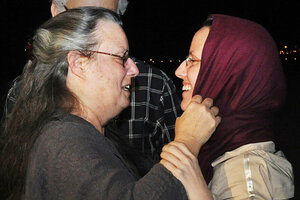 Sultan al-Hasani/AP
Sarah Shourd ended 13 months in detention in Iran's notorious Evin Prison Tuesday and today was with her mother in Oman awaiting a flight to take her back to the US.
But the fate of the two other US hikers seized along with Ms. Shourd near the Iraqi-Iranian border in July 2009 remains uncertain.
The Twitter feed of State Department Spokesman PJ Crowley issued a challenge to Iranian President Mahmoud Ahmadinejad shortly after the release, with a post that said: "President Ahmadinejad, want to show goodwill to the American people? Bring Shane Bauer & Josh Fattal home next week when you visit the UN."
But the Shourd case demonstrates that the decision is far from Mr. Ahmadinejad's alone.
The on-again, off-again nature of her release – Ahmadinejad's announcement, followed by a demand for "bail" that was viewed internationally as a ransom request, and the release two days later by the judiciary, not the president – spotlighted the divisions between Ahmadinejad and other members of the conservative political and religious establishment, as the Monitor's Scott Peterson reported Tuesday.
---