Can ignoring Hamas lead to Israeli-Palestinian peace?
(Read article summary)
Hamas, the Islamist movement that controls Gaza, is being ignored in the ongoing Israeli-Palestinian peace talks. Some think that's a big mistake.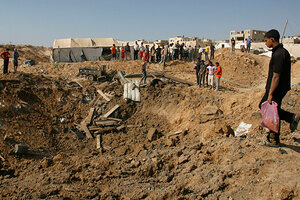 Eyad Baba/AP
George Mitchell, President Obama's Middle East peace envoy, rarely misses an opportunity to mention the crucial role he played in helping bring peace to Northern Ireland.
As he makes the rounds in Washington, Jerusalem, and Damascus, trying to shepherd Israeli-Palestinian peace talks, he speaks of the skepticism that plagued the talks in Belfast that ended in the Good Friday Agreement of 1998. His point? That Northern Ireland proves that a comprehensive peace deal can be worked out between Israeli Prime Minister Benjamin Netanyahu and Palestinian Authority President Mahmoud Abbas within the next two years, which is Obama's timeline for the peace effort.
But there's a crucial missing element that will undoubtedly trouble the Israeli-Palestinian talks as they move ahead. Gaza, the Palestinian enclave ruled by the Islamist Hamas movement, is not at the table. Asked recently if the US would reach out to Hamas, Mr. Mitchell flatly said "no."
A blast of mortar fire from Gaza on Wednesday – and Israeli retaliation Thursday – served as a raucous reminder that Hamas isn't going to stand idle as the talks proceed.
---