Rash of Rio violence rattles even hardened residents in Brazil's World Cup host city
(Read article summary)
Torching of cars and buses raise concerns over policing methods as Rio de Janeiro prepares to host the 2014 World Cup and 2016 Olympics.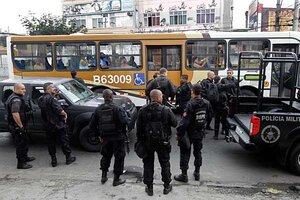 Silvia Izquierdo/AP
Nine cars, five buses, and a van set on fire across the city – just this morning. Numerous other acts of arson across roadways since Sunday, when an apparently coordinated series of fires were set off and homemade bombs were set around Rio de Janeiro (see a map here). In many cases, armed bandits have forced motorists from their vehicles to set them ablaze.
The street I used to live on in Copacabana is one that awoke to a car bombing today in Brazil's second-largest city.
An American friend asked me last night: "But isn't this normal for Rio?"
No matter how much the desperately violent 2002 film "City of God" has colored foreigners' image of this city, the truth is that many parts have been tranquil for the past couple of years, giving residents a sense of security that random acts of violence are now rattling. Police today raided shantytowns and reportedly killed 10 suspected criminals.
Rio authorities say the violence is in reaction to a two-year-old policing project, known as the "pacification" program, to root out organized drug-fueled crime by occupying favelas (or shanty towns). The program involves setting up heavy policing units to reclaim slums from gangs, and authorities say it has "pacified" 13 favelas since its inception.
---