France's dispute with Mexico over Florence Cassez moves from diplomatic arena to cultural stage
(Read article summary)
France said it would use its 'Year of Mexico' cultural event as a forum to press for the release of Florence Cassez, who is serving a 60-year prison sentence in Mexico for kidnapping.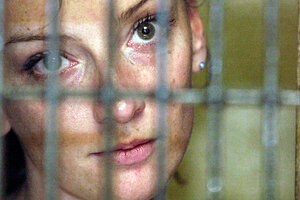 Reuters/File
France's "Year of Mexico," launched five days ago as a celebration of Mexican arts and culture, so far seems more like the year of clash with Mexico as relations between the two countries grow increasingly strained over the case of a Frenchwoman imprisoned in Mexico.
Yesterday, Mexico pulled out of the French event after France announced that some 350 events, films, and symposia planned for the year would be used to push for the release of Florence Cassez, who is serving a 60-year prison sentence for kidnapping. Ms. Cassez recently lost an appeal in the case that steams from her 2005 arrest for kidnapping. The French population has taken up her cause as a case of Mexican injustice.
When Mexico learned that the "Year of Mexico" would be used to make the case for Cassez's release, it said it wasn't having any part of it. Mexico "will not allow its artists and creators, or its businessmen and other participants in this program, to be exposed," the Mexican foreign ministry said Monday.
The ministry also criticized French President Nicolas Sarkozy. That "a head of state would make a foreign policy decision that affects ties between two nations and governments in consultation with a person condemned by Mexican justice for a particularly serious crime" is unacceptable, it said.
Cassez has maintained her innocence. She claims that she didn't know about the kidnapping victims who were found at a compound belonging to her former boyfriend, Israel Vallarta.
French sympathy with Cassez has grown since her prison sentence was handed down in 2009. The public has seen pitiable photos of young Cassez peering from behind bars and wires in anticipation of a lifetime incarceration in what they view as deplorable jails.
More to the point, much of the discussion here has surrounded the bizarre way her arrest was portrayed in the Mexican media.
---