In Libya's war, journalists themselves become part of the story
(Read article summary)
According to a report from the Committee to Protect Journalists, two journalists have been killed and 36 detained since protests began. Thirteen remained in detention as of Monday.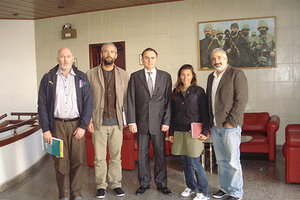 Turkish Ministry of Foreign Affairs/AP
The publication Tuesday of four New York Times journalists' account of their captivity by Qaddafi loyalists has put reporters working in Libya in the spotlight. The four were captured on March 15 by Qaddafi forces, later transferred to Libyan government authorities, and released on March 21.
From the beginning of their professional training, journalists are warned against doing anything that would make them, rather than the events they're covering, the story. But in Libya, where according to the Committee to Protect Journalists (CPJ) there have been at least 36 detentions, two deaths, and various other attacks on journalists since protests began in mid-February, the danger posed to journalists is quickly becoming one of many narratives.
Qaddafi loyalists have repeatedly threatened to treat them like "terrorists" and the government said that any journalists caught in the country without visas – most of foreign press corps there, especially in the east – would be assumed to be Al Qaeda operatives and treated as such.
---