French outrage over 'inhumane' treatment of Strauss-Kahn highlights culture clash
(Read article summary)
Unless it is proven that International Monetary Fund head Dominique Strauss-Kahn raped a hotel maid in New York, it's none of the public's business, many French say.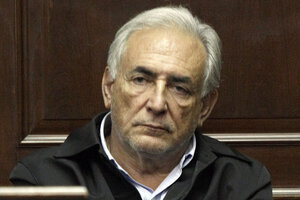 Richard Drew/Pool/AP
As International Monetary Fund head Dominique Strauss-Kahn sits in an American detention center cell on Rikers Island, his case has spurred a hot debate on French attitudes toward politicians and sexual misconduct.
Many in France are angry over the way US authorities have handled the Strauss-Kahn case, particularly the "perp walk" – which would be illegal in France – and the lack of bail, which they say implies that he has been presumed guilty, CNN reported.
"There's a general feeling of a media, a judicial fury – of a lynching," Jack Lang, France's former minister of culture and education and a Socialist Party lawmaker, told Europe 1 radio.

Lang called the American justice system "inhumane."

"For 48 hours now, only the side of the accusation has been heard ... and the versions given by police have been contradictory," he said. "The refusal to allow him out on bail, when no violent crime has been committed – even in America suspects are usually let go on bail if a violent crime has not been committed."

"They do feel he hasn't been given a chance to show his defense," [Nathan King, a correspondent for France 24 television network] said.
---