SCO security summit: Are China and Russia losing patience with Ahmadinejad?
(Read article summary)
Iran's President Mahmoud Ahmadinejad made his usual denunciations of the US at the Shanghai Cooperation Organization's (SCO) meeting in Kazakhstan, but Russia and China seem less interested this year.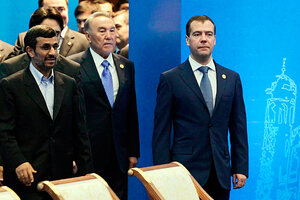 Mikhail Klimentyev/Presidential Press Service/RIA Novosti/AP
There aren't many places Mahmoud Ahmadinejad, the politically embattled president of Iran can go these days to find a receptive audience.
But the Shanghai Cooperation Organization (SCO), the Central Asian security and trade group dominated by Russia and China, is unencumbered with any official US allies among its members and always seems up for a rip-roaring denunciation of the US and all its works by the diminutive Iranian leader.
Upon arriving in Kazakhstan's capital of Astana to attend the SCO's annual summit, where Iran is only an official observer, President Ahmadinejad did not disappoint observers awaiting his fireworks.
"All opinion polls show that the US is the worst country in the world. People everywhere regard this country as their own enemy," he said in one meeting.
He called on the SCO to take a more active role in undermining the US-led global system of "slavers and colonizers" and replacing it with a more just order.
"I believe together we can reform the way the world is managed. We can restore the tranquility of the world," he told the assembled SCO leaders, including Russia's President Dmitry Medvedev and China's President Hu Jintao.
---