Buckle up. Talking with the Taliban won't be easy.
(Read article summary)
The Taliban announcement that it would open an office in Qatar is a first step toward talks. But history shows that negotiated withdrawals are often designed to test the patience of the departing Army.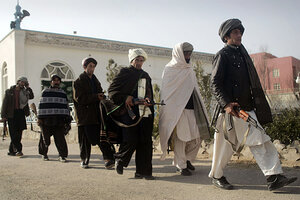 Hoshang Hashimi/AP/File
It's possible that after years of fits and starts, unprecedented talks may finally begin between the US government, the Afghan government, and the Taliban.
While the Taliban's new openness seems be a leap forward for the peace process and also bears the stamp of approval of Taliban leader Mullah Mohammad Omar, negotiations are almost certain to be rocky. History shows they're also likely to test the patience of the US.
On Tuesday, Taliban spokesman Zabiullah Mujahid made the announcement:
We are at the moment, besides our powerful presence inside the country ready to establish a political office outside the country to come to an understanding with other nations and in this series, we have reached an initial agreement with Qatar and other related sides.
But at the end of his statement, posted on the Taliban's website, Mr. Mujahid quashes hopes of negotiation:
Apart from this, the perturbing reports spread by some news agencies and Western officials about negotiations have no reality and are strongly rejected by Islamic Emirate of Afghanistan.
Buckle up
Though this may come like a slap to many Americans who see a decade of armed presence in Afghanistan as time enough for the Karzai administration to get its act together, American officials surely must know by now that any discussion with the Taliban is not going to be easy.
The Taliban, after all, are primarily driven by nationalist sentiment, the desire to drive out foreign forces.
Years of drone attacks and Humvee patrols have hardened the attitudes of some Afghans, and the inefficacy of the Karzai government to extend its authority and governmental benefits beyond Kabul has left many other Afghans ambivalent, at best.
All this will make the Taliban a very prickly partner in discussions, prone to demands that both the US and Karzai governments may find unreasonable.
And if President Karzai has misgivings about talking with the Taliban, he's not showing it.
Karzai set up a High Peace Council and assigned former President Burhanuddin Rabbani to lead talks with willing Taliban members. (Rabbani was assassinated last year by one of those Taliban, who exploded a bomb hidden in his turban as he entered the room to see him.)
Arsala Rahmani, spokesman for Karzai's High Peace Council, also put a brave face on the situation, telling reporters in Kabul, "It is important for the Taliban to negotiate with the international community, especially with the US, and we welcome their decision to set up a political office. It is a gesture of good faith."

---