Sarkozy pledges to 'save European way of life'
(Read article summary)
Six weeks ahead of elections, French President Nicolas Sarkozy is seeking to appeal to far right voters by vowing to crack down on immigration to France.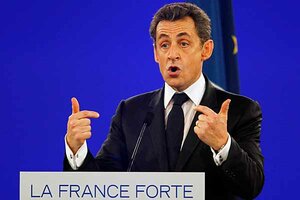 Francois Mori/AP
So now, Nicolas Sarkozy is – maybe – going to close France to the rest of Europe.
In a grand reelection rally last night, the French president threatened last night to end French participation in Europe's free travel zone should the continent fail to tighten its borders. Lax controls and illegal immigrants threaten an "implosion of Europe" Mr. Sarkozy said, only days after saying France has too many foreigners.
Last night's cry from the president at a rally of more than 50,000 was to "save the European way of life" threatened by illegals and globalization. Both themes are the chief points of the far right nationalist Marine Le Pen; at one point Sarkozy beseeched the crowd to "help" save a France in crisis. He also proposed a protectionist "buy European" plan that would allow only European contractors to bid for European infrastructure building, and said that if it failed, he would make it apply only to France.
Sarkozy, who lags behind socialist candidate Francois Hollande, is seeking to capture the votes of Ms. Le Pen's supporters while keeping the faith of France's political center, six weeks ahead of the April 22 national elections.
Sarkozy warned that if the EU doesn't deal with illegal immigration, France may leave the Schengen zone, the 25-nation free-travel area that is considered a crowning achievement of the post-war European project. In the past two years, France has pushed Italy and Spain to more closely guard their borders from illegals.
---